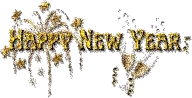 Free Graphics - MySpace/Xanga/Friendster
Last night Rod and I were trying to remember what we did last year for New Year's Eve but couldn't. I do know we were parked in the Camping World parking lot next to Sal and Leanne and their little pug dog Chablis. We must have just gone to bed like we do most New Year's Eves. We were up late last night because we went to the clubhouse for the get together. Funny thing was though they turned on the TV when the ball dropped in Times Square in New York City. WE'RE ON CENTRAL TIME!!! I think they just wanted to celebrate early and go to bed. LOL
Today we're going to the Clubhouse again for a chili potluck. Everybody contributes tomatoes, hamburger, beans, etc to make chili and the park is providing ham and black eyed peas also.
AND, if you're a football fan, today is a GREAT day. Lots and lots of College football games on. The only problem is there are so many that overlap so the remote gets a really good workout.
Rod and I want to wish everybody a Happy and healthy New Year. We are looking forward to more great adventures down the road.
Bliadhna mhath ur
(Gaelic)